Date: 25 May 2009
Venue: NIE Foods Lab
Three Dishes : Crepes Au Breton, Chilli Crab Spaghetti and Molten Lava Chocolate Cake
The Workshop 3 was a blast. The participants had the opportunity to make their own savoury crepes served with homemade sour cream. The fillings are smoked salmon, caper, garlic and onion condiments.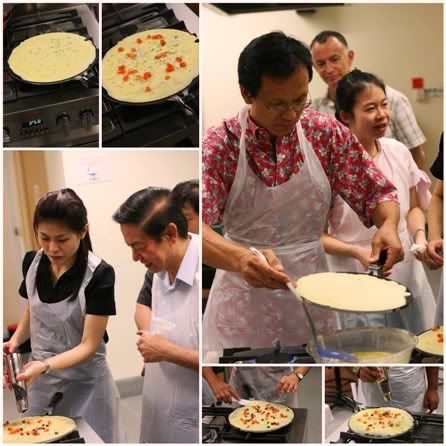 Next we cooked the Chili Crab Spaghetti. The Singapore's unique champion seafood dish is transformed to a sensational pasta with chili crab style sauce with fresh crabmeat, tomatoes and a lip smacking chili paste, enriched with beated egg and garnished with lots of fresh coriander.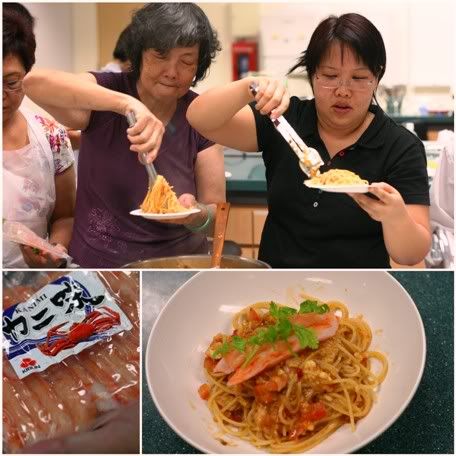 Last but not least, the long awaiting famous dessert, Molten Lava Chocolate Cake. As they say, death by chocolate, this sensational sinful warm lava oozing chocolate cake sent all of us to heaven. So heavenly eaten with the yummy vanilla ice cream and strawberries!!!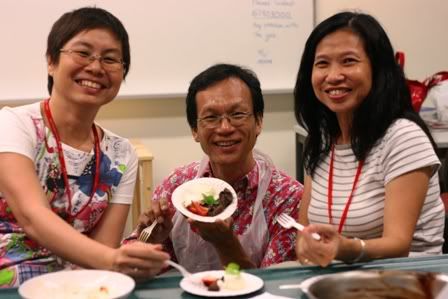 Let's see the making of the lava cake demostrated by Chef Eric...
Thank you everyone who signed up for the workshop and joined in the fun. Do look out for the events coming up in future!